Valencia Suing Calatrava Over Deteriorating Opera House
Autor:

John Hill

Veröffentlicht am

Jan. 6, 2014
---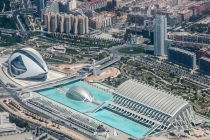 Last month, Christmas festivities at the Palau de las Artes opera house in Valencia, Spain, were cancelled due to chunks of the mosaic façade falling off during high winds. Local authorities are blaming the problems on Santiago Calatrava, the architect of the building and the larger City of Arts and Sciences complex of which it is a part. The world-renowned architect-slash-engineer had been in the news a good deal last year for his salary on a project that is seen as a failure in a country that cannot afford the projects ballooning costs (to over 1 billion Euros, or 4 times the original cost,
according to one report
), and for similarly large costs of other projects underway,
particularly the PATH Terminal in New York City
.
The most recent news, in response to the Christmas closure, involves the regional government suing Calatrava and his firm over the cost of repairs to the buildings, which are rapidly deteriorating only eight years after inauguration, citing "construction defects." Per the same report quoting the costs of the project in Valencia, the architect is no stranger to lawsuits arising from his attention-getting designs: He paid 3.3 million Euros to Oviedo, Spain, to settle a dispute after a structural collapse; he is being sued over persistent leaks in a winery in Avala, also in Spain; and in Bilbao, a pedestrian bridge he designed has been the source of numerous injuries and compensation paid by the city.